Chipping Norton
Chipping Norton lies 11 miles north of Burford in one of the least explored areas of the Cotswolds.
The bustling market town of Chipping Norton (known to locals as Chippy) is the highest town in Oxfordshire at approximately 700ft above sea level. Its elevated position gives commading views across traditional English countryside, not least across the valley to Bliss Mill, a landmark dating back to 1872.
Like many Cotswold towns, Chipping Norton owes much of its past prosperity to wealthy wool merchants. St Mary's church and the Guildhall are signs of the prosperity of the time.

Today, Chipping Norton is a typical market town with a range of shops, places to eat and drink and The Theatre on Spring Street.

The Chipping Norton town hall has been in existence for over 150 years and at one time was used as the town lock up, with four underground cells.
Chipping Norton was granted a charter in the 12th century by King John to hold a wool fair and Chipping Norton reached its peak some 300 years later, when it acquired most of the stone houses and half-timber-framed coaching inns that now line the market square.
St Mary's Parish Church, paid for by wealthy wool merchants, can be found just below the square in Church Street, past the Alms Houses.
The Parish Church of St Mary the Virgin
It is thought that this church was originally founded at some time in the 12th century and dedicated to St. Nicholas, but changed to St. Thomas a Becket after 1170. The present dedication to St. Mary the Virgin probably took place in the 13th century, which seems to be the date for the first stage of extension to the original church building. Inside the church you can find a chest tomb with alabaster effigies of Elizabeth Rickardes (a Fienned from Broughton Castle near Banbury) and her second husband Thomas Rickardes. More remnants of Chipping Norton's history can be found in the Chipping Norton Museum at the top of the square above the Westgate Centre.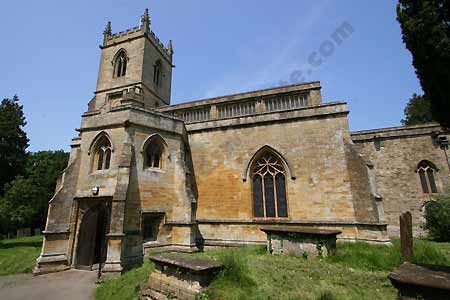 Alms Houses on Church Street, Chipping Norton

The Rollright Stones
Near Chipping Norton you will find the 3500 year old Rollright Stones.
The Rollright Stones are the third most important stone circle in the country, after Stonehenge and Avebury (both in Wiltshire).
The Rollright Stones consist of a circle of about 70 stones and is also known as the King's Men, while another five across a field are known as the Whispering Knights. On the other side of the road is the King Stone.
Chipping Norton Accommodation
The Crown and Cushion Hotel, Chipping Norton

The Crown and Cushion Hotel is a Cotswolds Hotel with Leisure and Conference facilities providing Accommodation in Chipping Norton and ideal for Cotswolds Holidays and Short Breaks. The Hotel is situated in Chipping Norton at the heart of the Cotswolds countryside in Oxfordshire. Originally a 15th-Century Coaching Inn, its traditions of hospitality and hostelry date back to 1497.


Full Chipping Norton hotel, Chipping Norton bed and breakfast and Chipping Norton self catering holiday accommodation can be found on the Chipping Norton accommodation page
Chipping Norton Events

View the full Cotswold Events listings, including Chipping Norton events
Cotswolds towns and villages
| | | |
| --- | --- | --- |
| Bibury | | Home to the famous and picturesque Arlington Row |
| Bourton on the Water | | Bourton on the Water is sometimes known as "The Venice of the Cotswolds" |
| Broadway | | One of the most beautiful villages in the Cotswolds, and probably England |
| Burford | | Burford is a beautiful town on the river Windrush |
| Chipping Campden | | An historic town with impressive buildings such as one of the finest wool churches |
| Chipping Norton | | The highest town in Oxfordshire and sometimes known as "The Gateway To The Cotswolds" |
| Cirencester | | One of the oldest and most beautiful market towns in the country |
| Fairford | | Gloucestershire town, probably most famous for being the home of RAF Fairford |
| Lechlade | | Lechlade is a small market town on the southern borders of the Cotswolds |
| Moreton in Marsh | | Moreton-in-Marsh is in the heart of the Cotswolds, located at the head of the beautiful Evenlode valley< |
| Nailsworth | | Situated about 4 miles from Stroud, Nailsworth is a charming town with winding streets and a plentiful supply of nooks and crannies to explore |
| Northleach | | A charming, under-developed Cotswold village |
| South Cerney | | One of the largest villages in the Cotswolds |
| Stow-on-the-Wold | | Stands along the old Roman Fosse Way on a 700 foot high hill |
| Stroud | | The oldest market town in Gloucestershire |
| Tetbury | | A centre for antique shops and home to The Market House built in 1655 |
| Westonbirt | | Home to the world famous Westonbirt Arboretum |
| Witney | | Famous for Witney blankets |
| Woodstock | | Home to Blenheim Palace, birthplace of Sir Winston Churchill |