The Cotswolds - Cirencester, Gloucestershire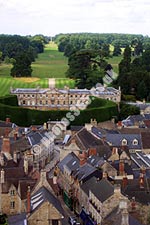 Cirencester is an historic wool town that had great importance in Roman times. It's impressive church dominates the Market Place and can be viewed for miles around.
Cirencester has great road links to the surrounding area which makes it the ideal base for touring the Cotswolds.
In the town you will find the famous Corinium Museum, and a wonderful Cirencester shopping experience.
The Cirencester outdoor swimming pool is one of the oldest open air swimming pools in Britain.
Cirencester offers a unique shopping experience (more details on the Cirencester Shopping website).
For more information, visit the largest Cirencester web site on the internet.
You can also visit another Cirencester web site by clicking here
Cirencester Events
| | | |
| --- | --- | --- |
| 07/10/2023 | - | Self-Portraits in Collage Workshop for 13 - 17 year olds, Cirencester |
| | | Using recycled magazines and papers you will create a contemporary self portrait in collage. You will be shown techniques such as ripping and cutting to create a textured 2D collage focusing on shapes... [more] |
| 07/10/2023 | - | Woven Leaves Wall Hanging Workshop (8 - 12 years), Cirencester |
| | | Learn the craft of weaving using recycled paper, fabric scraps and yarns to create an autumnal woven leaves wall hanging. Using a leaf template as your loom, you will create a set of textured, wov... [more] |
| 07/10/2023 | - | Make Your Own Silver Pendant, Cirencester |
| | | Design and create your own silver pendant with the help of Charlotte Anne Duckworth, the Bristol silversmith otherwise known as The Silver Duck. Charlotte has been teaching and hosting workshops since... [more] |
| 07/10/2023 | - | Intermediate Throwing, Cirencester |
| | | [more] |
| 07/10/2023 | - | Leather Bag Making, Cirencester |
| | | [more] |

View the full Cotswold Events listings, including Cirencester events
Cirencester Accommodation
If you are looking for accommodation in Cirencester you could try The Ivy House on Victoria Road or The Old Brewhouse on London Road.
The Ivy House, Cirencester

The Ivy House is an imposing Victorian residence built in 1870, occupying a prominent position within a three-minute walk from Cirencester town centre (where you will find The Corinium Museum), a ten-minute walk from Cirencester Park and only a five-minute drive from the Royal Agricultural College.

The Ivy House is ideally situated for touring the Cotswolds: Tetbury, Bibury, Burford, Bourton-on-Water, Broadway, Stow-on-the-Wold and the Cotswold Water Park are just some of the beautiful local places to explore.

The Old Brewhouse, Cirencester

The Old Brewhouse is a family run Bed & Breakfast conveniently situated just 2 minutes walk from the centre of Cirencester in the beautiful English Cotswolds.
The house dates back some 200 years. Original deeds show it was once a brewhouse (hence the name).

Over the last 4 years the Old Brewhouse has been sympathetically restored, and more recently extended, to give good quality accommodation. We have acheived a 5 diamond silver rating.
Full Cirencester hotel, Cirencester bed and breakfast and Cirencester self catering holiday accommodation can be found on the Cirencester accommodation page
Cirencester Attractions
Among the many attractions that Cirencester has to offer is the Cotswold Show & Country Fair and the Corinium Museum
Images of Cirencester
The feeling of walking around Cirencester with a camera must be similar to the feeling that a child experiences when entering a sweet shop full of sweets!

Make sure you have enough film in your camera or space on your digital camera memory card. You will need it!

More Cirencester photographs on the photographs of Cirencester page
Cirencester Web Design
Cirencester web design services are provided by Commatic Ltd, and computer services company with many Cirencester clients including McGills Chartered Accountants, The Ivy House Bed and Breakfast, Concord Foto Centre and The Old Brewhouse. Visit the Cirencester web design website