Crickley Hill Country Park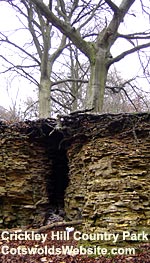 Crickley Hill Country Park is a country park on the Cotswold scarp approximately 6 miles East of Gloucester and overlooks the Severn Vale.
Crickley Hill enjoys extensive views over the surrounding countryside, views that are hard to beat on a clear day, including Robinswood Hill and the Brecon Beacons.
The country park is a site of nature conservation, geological & archaeological interest.
The country park is popular with walkers and dog owners, but its large size means that it never feels crowded.
There is a centrally located picnic area and throughout the country park you will find benches should you need to stop for a breather.
There is a visitor centre on site (seasonal opening) & information on waymarked trails is available via posters displayed at the visitor centre all year round.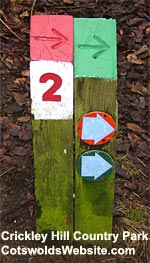 The six trails are marked with coloured posts in the ground and are designed to explore the different areas of historical and geographical interest at Crickley Hill.
The guide map at the Crickley Hill visitor centre states that the trails will take between 30 minutes and 1 hour but will take less time (dependant on your walking pace). The red trail for instance is said to take 60 minutes but can be walked in just 45 minutes
Facilities and Access
There is a plentiful supply of parking space at Crickley Hill with a separate coach park.
Park open all year, dawn to dusk.
Toilets
Information Point
Picnic area
Dogs welcome
Admission free.
Contact :-
Tel. 01452 814213