Witney in the Oxfordshire Cotswolds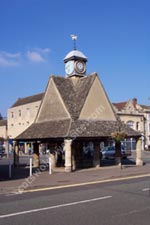 Witney is an Oxfordshire town, a few miles from Oxford and Burford

Witney became world famous for its blanket industry, especially in North America. Unfortunately the industry has all but died since the closure of the last of mill in 2002 (Early's), but the town still owes much of its prosperity to the wool trade.
Witney is an expanding town with new property developments, but its town centre is a traditional market town scene.
The new Marriots Walk development brings a 5 screen cinema and new shopping area to Witney.
The magnificent spire of St Mary's church overlooks the triangular Church Green, and the Green itself is surrounded by some of the most beautiful looking buildings in the town.
The 17th Century "Butter Cross" sits at the head of the High Street which is also home to the 18th Century Town Hall.
Witney has a mix of shops from the large national chain stores like Argos, WH Smith and Carphone Warehouse to the local independent specialist shops. Waitrose and Somerfield provide supermarket facilities in the town centre and Sainsburys has a store on the outskirts of the town centre.
Witney Events

View the full Cotswold Events listings, including Witney events


Witney Accommodation
Full Witney hotel, Witney bed and breakfast and Witney self catering holiday accommodation can be found on the Witney accommodation page
Witney bed and breakfast accommodation includes Hawthorn House and The Fleece Hotel overlooking Church Green is one of the best hotels in Witney.
Witney Attractions
The Cogges Manor Farm Museum, the Witney Museum and Bishop's Palace are well worth a visit, and Witney's geographical position make it a ideal base for touring the Oxfordshire Cotswolds. A few miles from Witney you will find North Leigh Roman Villa
For more Witney information, visit the Witney web site or Witney News or for Witney discussion try the Witney Forum
Cotswolds towns and villages nearby