Batsford Arboretum
Batsford Arboretum, near Moreton in Marsh, covers 56 acres making it one of the largest private collections on trees and shrubs in England
Batsford Arboretum was originally designed in the late 1800s by Algernon Freeman Mitfrod who inherited the estate in 1886.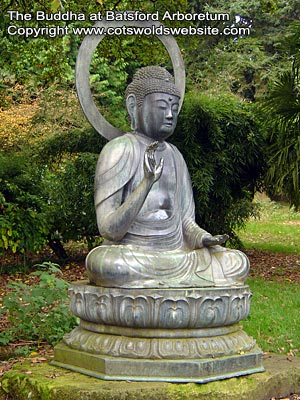 A Buddha and other bronze statues were imported for the arboretum. The Buddha can be found near another example of the Chinese and Japanese influence, The Japanese Rest House.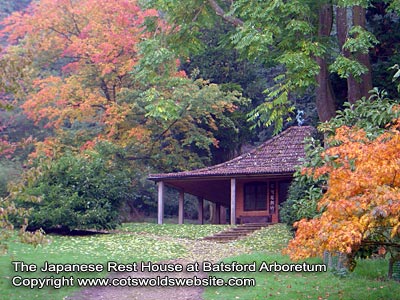 The current collection at Batsford stretches to over 3100 labelled specimens (including more than 1600 different species of trees and shrubs)
Batsford Arboretum has plenty to see all year round, whether it be carpets of snowdrops and daffodils in the Spring, the dazzling explosion of colour in the Autumn, the splendour of sparkling white front touched trees in the Winter, or the trees and shrubs lit with the warm glow of summer sunshine.
Batsford Arboretum Opening Times
Batsford Arboretum is open daily from February to mid-November and every weekend from Mid-November to the beginning of February.
For exact, up-to-the-minute opening times, call Batsford Arboretum on 01386 701441
Moreton in Marsh
For more Moreton in Marsh details see the Moreton in Marsh page of the Cotswolds Web site