Cotswolds Books
Are you looking for a Cotswolds guide book? Please look at our selection below. Click on a book to order online.

A Postcard from the Cotswolds
A nostalgic, vivid historical guide lavishly illustrated with old postcards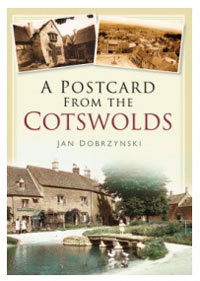 From Gloucester and the Five Valleys to Bath and the North Cotswold's, Jan Dobrzynski delves into the past of one of Britain's most picturesque area's. This collection of incredible images from over the last two centuries depicts life how it once was and shows how it has changed through time. Including information on geography, local history, transport, and the environment; A Postcard from the Cotswold's is the perfect visual and factual guide for residents and tourists alike.
* Over 200 evocative postcards and illustrations of the Cotswold's.
* Describes the outstanding scenery of the region in words and pictures, as immortalised by earlier generations of photographers and artists.
* Includes a large amount of previously unpublished images.
Jan Dobryznski is a keen postcard collector. Educated locally, he has worked as a chemist in the carpet industry before finally working as a scientist and engineer in the automotive components industry. He has produced several titles, including A Postcard from the Severn and Worcestershire's Historic Pubs and A Postcard from Shakespeare's Avon. He lives in Kidderminster.
Available from all good bookshops, Amazon and The History Press
Direct Sales - 01235 465500 or www.thehistorypress.co.uk
Cotswolds Book Shop
Oxfordshire Place Names
Have you ever wondered how Burford came to be called Burford and why Oxfordshire towns and villages are so named? Why is Witney called Witney and Shilton called Shilton? Where on earth did the name Wallingford come from? How did Oxford come to be called Oxford and Bicester come to be called Bicester?
The answer to these, and many other questions can be found in a new book called Oxfordshire Place Names by Anthony Poulton-Smith (Amberley Publishing).
This paperback bookruns to over 150 pages and organises the towns and villages of Oxfordshire alphabetically so it''s easy to dip in and out of the book. The book is scattered with black and white photos such as The Radcliffe Camera in Oxford, Thame Council Offices and The statue of Alfred the Great in Wantage.
If you have in interest in Oxfordshire and/or place names then the book can be purchased through Amazon - Oxfordshire Place Names