Sudeley Castle
Set against the beautiful backdrop of the Cotswold Hills, Sudeley Castle is steeped in history. With royal connections spanning a thousand years, it has played an important role in the turbulent and changing times of England's past.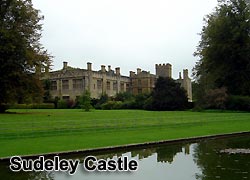 Sudeley Castle was once a favourite country retreat of Tudor and Stuart monarchs.
Sudeley Castle was once home to Queen Katherine Parr, following her marriage to Sir Thomas Seymour, and Lady Jane Grey. Henry VIII, Anne Boleyn and Queen Elizabeth I all visited Sudeley. King Charles I stayed here and his nephew, Prince Rupert, established his headquarters at the Castle, during the Civil War.
Following its destruction by Cromwell's troops, Sudeley lay neglected and derelict for two hundred years. However, its romantic situation and ruins attracted many visitors, including King George III.
In 1837, Sudeley was bought by John and William Dent, of the Worcestershire glove making company of that name. They began an ambitious restoration programme which was continued by their nephew John Coucher Dent, who inherited the Castle in 1855, and his wife Emma, who threw herself enthusiastically into Sudeley's restoration, at the same time forging strong links with the town of Winchcombe.
Today, Sudeley is the home of Lord and Lady Ashcombe and the families of her two children, Henry and Mollie Dent-Brocklehurst. They are dedicated to its continued restoration and the regeneration of the gardens, with particular emphasis on conservation and sustainability.
Source : Sudeley Castle web site